Met LibreOffice aan het werk

Leerboek en handleiding bij dit veel gebruikte OpenSource Office-pakket.
Nieuw: voor LibreOffice versie 7.x en hoger - Prijs € 24,00.
ISBN 978 90 72445 76 6, 338 pagina's
(Verzendkosten binnen Nederland € 5,00. Voor Vlaanderen € 10,00)
(De gebruikte voorbeelden zijn gratis verkrijgbaar via een aan te vragen download link.)

KOPEN? Klik hier! Voor meer exemplaren mail je de uitgever.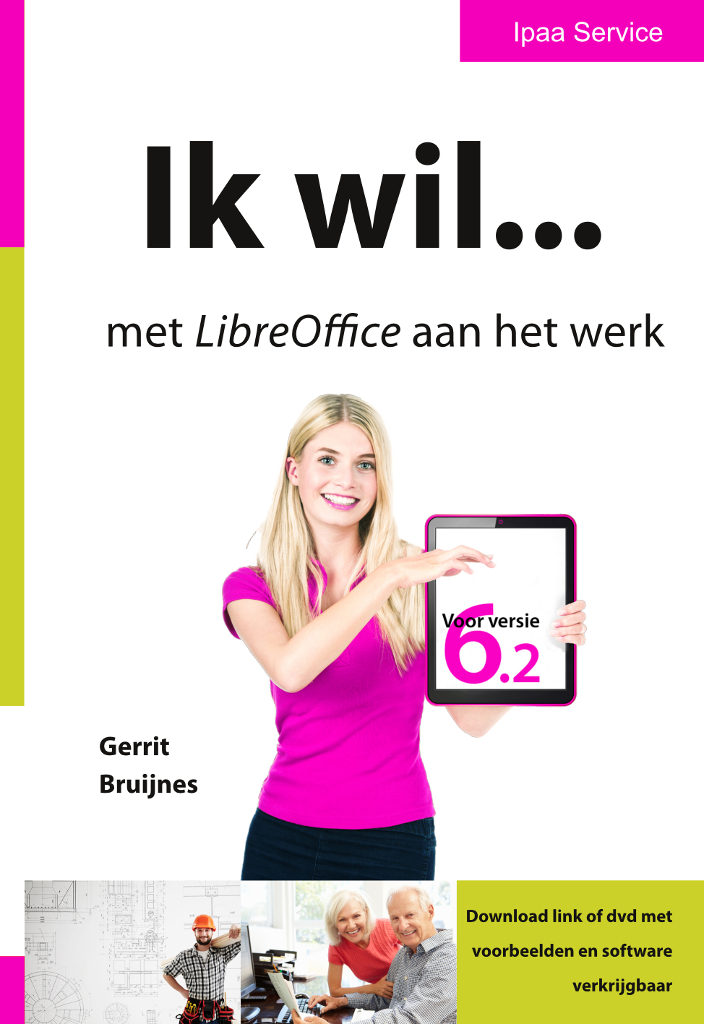 Vorige versie: voor LibreOffice 6.2 en hoger - Prijs € 24,00.
ISBN 978 90 72445 66 7, 338 pagina's
(Verzendkosten binnen Nederland € 5,00. Voor Vlaanderen € 10,00)
(De gebruikte voorbeelden zijn gratis verkrijgbaar via een aan te vragen download link.)

KOPEN? Klik hier! Voor meer exemplaren mail je de uitgever.
Je kúnt deze boeken van kaft tot kaft doornemen, maar dat hoeft niet! Door de logische indeling, kun je ook alleen die hoofdstukken lezen die je nodig hebt. Het boek bevat acht hoofdstukken voor beginners om met alle onderdelen van LibreOffice te leren werken. Daarnaast vind je vijftien hoofdstukken met allerlei praktische voorbeelden, waaronder:
• Effectieve (digitale) correspondentie • Een mailing uitvoeren • Flitsend presenteren • Een vlot cv opstellen en vormgeven • Een beurs of seminar organiseren • Een reclamefolder en een nieuwsbrief produceren • Voorraadbeheer • De administratie op orde brengen • Een eenvoudige website maken • En veel meer!

(Aan elke app van de LibreOffice suite wordt enige aandacht gegeven. Het grootste deel van het boek is echter taakgericht. De afzonderlijk apps worden niet uitputtend besproken. Wilt u bijvoorbeeld meer weten over Calc, dan is daar een aparte titel van 270 pagina's voor.)
Dit OpenSource-programma is beschikbaar voor Windows, Apple en Linux. Het doet zeker niet onder voor Microsoft Office, het is alleen gratis en wordt onderhouden door een wereldwijde gemeenschap. LibreOffice telt vijf onderdelen: een tekstverwerker, een spreadsheet-programma, een presentatie-onderdeel, een database, een tekenprogramma en een onderdeel om mathematische formules in te maken. Belangrijk is te weten dat het Microsoft documenten kan lezen en documenten in het .doc- en xls-formaat kan opslaan (Word en Excel). Uitwisseling met anderen is dus gewaarborgd, met dien verstande dat sommige opmaak verloren kan gaan! LibreOffice wordt gemaakt door The Document Foundation.
---
Recensies versie 7:
.
Recensies versie 6:
19 december 2020 - CDV. uit Winschoten geeft een negatieve beoordeling op bol.com:
Algemene beoordeling 5, productinformatie 5, levertijd 8, bezorging 9.
Het boek werd teruggestuurd omdat er onvoldoende informatie over de database app in stond. Nu staat dit ook niet specifiek in de productinformatie vermeld.
Mocht ú naar aanleiding van de omschrijving van de inhoud van een titel vragen over de inhoud hebben, stel deze dan eerst even per e-mail. U krijgt altijd uitgebreid antwoord. Ik hecht er veel waarde aan dat mijn lezers tevreden zijn met hun aankoop. Bovendien zijn retouren een kostbare aangelegenheid, het retourexemplaar kan vaak zo de papiercontainer in.

---de auteur---
7 augustus 2020 - A.N. uit Almelo schrijft:

Goed verpakt, en boek volgens verwachting. Levering veel sneller dan de beloofde tijd, in 3 dagen ipv ruim een week.

En complementeert dat op Bol.com met een waardering van 3 x 10 en 1 x 9. Bedankt!

18 juni 2019 - En nog zo één van A. uit L. op Bol.com
Netjes verpakt en in de brievenbus.
28 januari 2019 - Een dijk van een beoordeling van P. uit H. op Bol.com
2 oktober 2018 - Drs. J.W. Pauw - voor NBD Biblion:
LibreOffice is een kantoorsoftwarepakket ontwikkeld door The Document Foundation en beschikbaar voor Windows, OS X, Android en Linux. LibreOffice heeft vergelijkbare programma's als Microsoft Office (Word, Excel, Powerpoint, Visio, Access), maar is vrij en gratis verkrijgbare software (OpenSource). Dit praktische boek behandelt de gehele functionaliteit met als insteek de behoefte van de gebruiker: 'Ik wil…'. De talrijke illustraties, voorbeelden en tips versterken het gebruiksnut. Het boek gaat in op versie 6 en is een opvolger van boeken over eerdere versies. Het is zowel geschikt voor beginnende als meer ervaren gebruikers. Een appendix bevat informatie over de installatie van deze software. Aan het slot zijn twee registers toegevoegd: verwijzingen naar tips en trucs en een index.


Recensies versie 5:
24 november 2017 - P. uit Den Haag:
24 januari 2017 - Van lezer R.v.W., die met een vraag zat én de moeite nam enkele drukfoutjes te melden:
Bedankt voor de snelle en doeltreffende hulp.
Inmiddels heb ik nog een drukfoutje ontdekt: op blz. 105, 4e alinea,
3e regel: de "s" van sworden.
Uw boek van gewaardeerde hoge kwaliteit benadert alzo de perfectie!
Het boek is geheel herzien voor versie 5.3 en hoger en die typo's zijn er uit! Dank u! (de auteur)


6 september 2016 - Recensie op Bol.com:
Snelle levering, in goede staat aangekomen. Boek voldoet aan de verwachtingen.


10 december 2015 - Seniorweb / Mijndert Kuivenhoven
6 april 2016 - Uit de recensie van F. Dullemeijer voor nbd biblion:
"Een zeer praktisch gericht boek dat pas tot leven komt naast de computer. (...) Per hoofdstuk wordt een onderwerp besproken, dus niet van kaft tot kaft studeren. (...) Het is vlot geschreven, maar gaat er wel van uit dat je ook vlot met de pc bent. Als je pas begint met Office is dat overigens geen probleem. (...) In zwart/wit uitgevoerd, maar wel met heel veel schermbeeldplaatjes om 'op het spoor' te blijven."
---