Reis naar de Liefde
Hoe een wereldreis vol ontberingen, gevaarlijke situaties en moeilijke keuzes, maar ook met de onvermijdelijke romantiek, een leven kan vormen.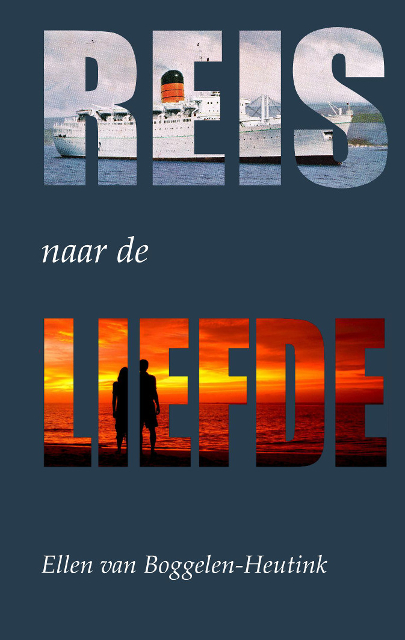 Deze uitgave is niet langer verkrijgbaar.

U kunt de uitgave nu hier vinden onder een nieuwe titel.
Ellen van Boggelen-Heutink emigreerde als achtjarig meisje met haar ouders naar Canada. In 1967, negentien jaar oud, keerde ze terug om vanuit Nederland een wereldreis te maken, liftend door Europa en met openbaar vervoer door het Midden-Oosten en Azië. Aansluitend woonde ze een jaar in Thailand waar ze indirect betrokken was bij de Vietnamoorlog.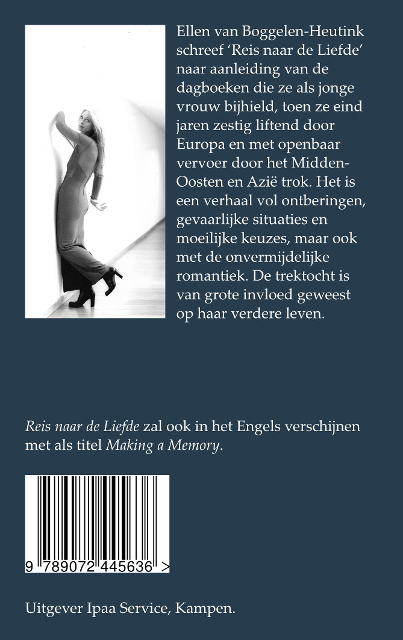 Onderweg hield ze dagboeken bij, aangevuld met gedichten, en maakte foto's en tekeningen. 'Reis naar de Liefde' heeft ze geschreven naar aanleiding van deze dagboeken.
Na opnieuw een jaar in Canada keerde ze in 1971 als migrant terug naar Nederland waar ze haar huidige man ontmoette. Het gevoel van ontheemding en de worsteling met meertaligheid loopt nog steeds als een rode draad door haar leven.
De trektocht is van grote invloed geweest op haar verdere leven en dat van haar man: de armoede die ze destijds om zich heen zag, heeft hen in 1974 doen besluiten meerdere pleegkinderen in hun gezin op te nemen. Tot op de dag van vandaag zijn ze, met drie pubers in huis, nog steeds een groot pleeggezin.
(Pocket met tientallen kleurenfoto's, kaarten, brieven en tekeningen van de schrijfster.)
---

De auteur werd 13 mei 2017 geïnterviewd door het programma Andere Tijden (VPRO / NTR), samen met andere reizigers die in de hippietijd naar India trokken. Hier kunt u die aflevering terugzien onder de titel Op vakantie naar Afghanistan.
---
Recensies
Recensies voor deze titel kunnen niet langer opgenomen worden!


Recensie voor Leeskost op 14 oktober 2017, door Job ter Steege: Backpacker in the summer of love
Jonge vrouw besluit in 1968 een wereldreis te maken. Twee jaar trekt ze door Europa en Azië. Ellen is acht jaar als ze naar Canada emigreert. In 1967 keert ze als negentienjarige terug naar Nederland. Een jaar later besluit ze erop uit te trekken. Ze reist met wisselend gezelschap, meestal met één of twee vrienden die ze onderweg leert kennen.
(...)
Bij lezing van het reisverslag moet men er vanzelfsprekend van doordrongen zijn dat de wereld na meer dan een halve eeuw nogal veranderd is. De reis van Ellen zou op deze manier nooit kunnen worden gemaakt. Alleen al het bezoek aan Iran, waar toen de westerse Sjah nog aan het bewind was, zou er nu heel anders hebben uitgezien. Maar goed, het boek laat hier geen enkel misverstand over bestaan.
Wel dient men gecharmeerd zijn van de verteltrant die het midden houdt tussen een schoolkrantverslag en de voice-over van het programma rail-away. Het wordt allemaal wel heel netjes geformuleerd, een beetje truttig. Het lijkt soms een beetje op het verhaal van een ouderwetse ontdekkingsreiziger: …De inboorlingen leken vriendelijk, dus besloten we de nacht door te brengen…
Orgasmes
Dat geldt alleen niet voor de passages waarin Ellen opstoomt naar haar orgasmes en de verslagen van het hinderlijke hanengedrag waarmee ze regelmatig wordt lastig gevallen. Dat geeft de lezer weer moed om het volgende land binnen te trekken.
Recensie voor NBD Biblion op 5 juli 2017, door J.C. Brouwer:
Beschrijving van de reis die de schrijfster maakte in de periode van 1968-1970. Zij reisde door Europa en Azië. Het boek bestaat uit vier delen waarin zij de diverse bezochte landen beschrijft. In elk land ontmoet zij een andere jongen met wie zij gedurende een tijd samen verder reist. De hoofdstukken hebben de namen van de diverse jongens gekregen. Naast het persoonlijke verhaal van deze relaties wordt uitgebreid aandacht besteed aan hoe de landen er in die tijd uitzagen, hoe de bevolking leefde en op welke wijze er van het ene naar het andere land gereisd werd. Het boek is gebaseerd op de dagboeken die de schrijfster indertijd heeft bijgehouden. In de diverse hoofdstukken zijn schuingedrukte passages opgenomen waarin de schrijfster, los van haar dagboek, ingaat op de diverse passages. Het boek is voorzien van een inhoudsopgave en diverse door de schrijfster zelf gemaakte fotos, tekeningen en gedichten.
Recensie in de Volkskrant van zaterdag 6 mei, Rubriek Signalementen:
(Let op: de vermelde prijs is onjuist!)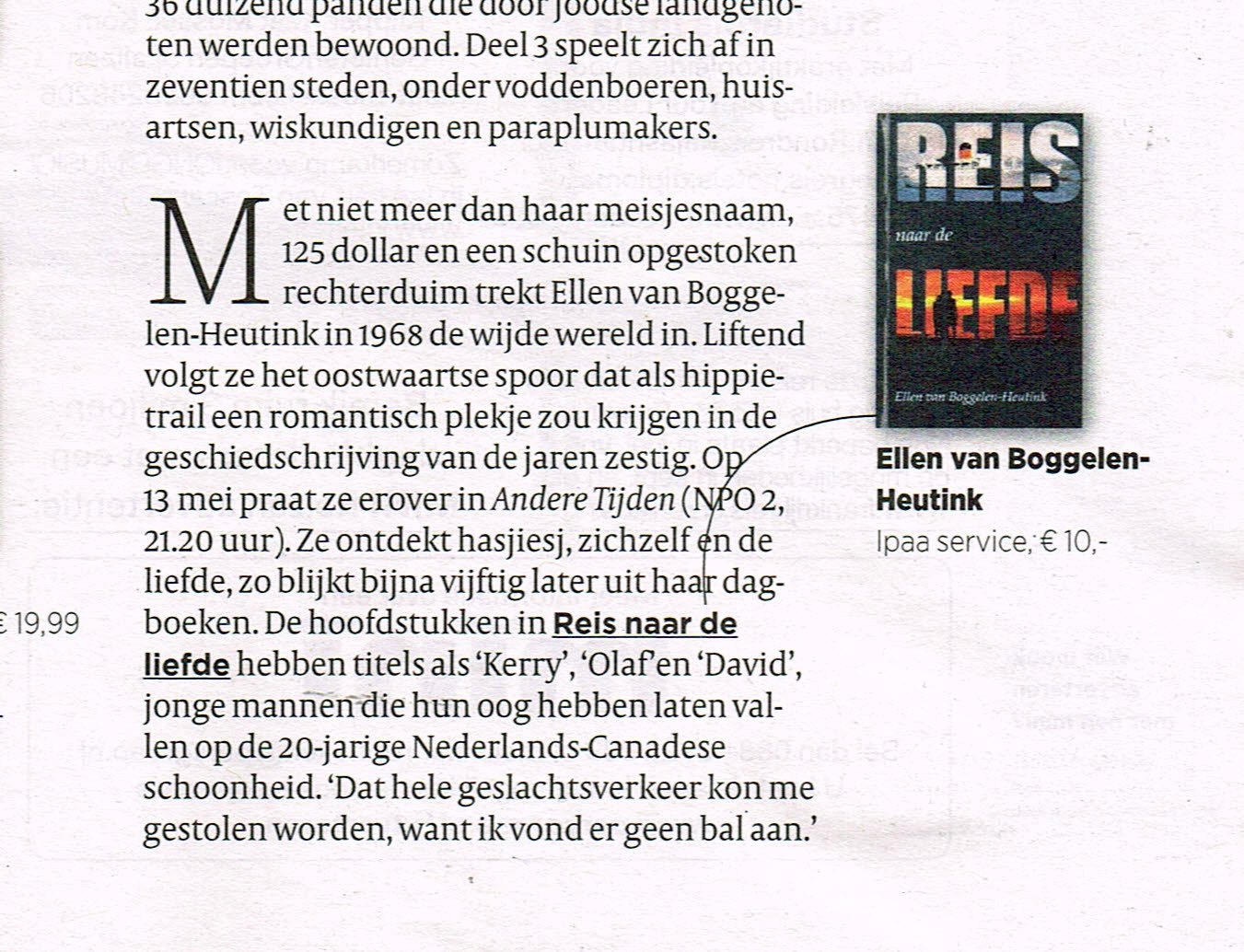 20-3-2017 Artikel Dagblad Tubantia
Avontuur in het bloed
Met 125 dollar op zak vertrok beeldend kunstenares Ellen van Boggelen-Heutink (68) in 1968 op wereldreis. Twintig jaren jong, lange lokken en helderblauwe ogen. De reis vol liefde, spanning, passie, maar ook tragedie en armoede staat beschreven in haar onlangs gepubliceerde boek 'Reis naar de liefde'.
In haar kunststudio in Oldenzaal hangen tientallen gelige krantenknipsels op de muur die stuk voor stuk in verband staan met haar wereldreis. Van Boggelen pikt er een foto uit. Een mooie jongedame met donkere haren kijkt indringend de camera in. Eigenwijs, naïef en ietwat mysterieus. ''Dat was ik toen ik twintig was. Mijn zoon vindt het mijn mooiste foto'', zegt Van Boggelen, met dezelfde fonkeling nog in haar blauwe ogen. Dat deze foto ze betekenisvol is, blijkt uit het feit dat deze is afgebeeld op de eerste pagina van haar eigen boek. (...) Lees hier verder...


8-3-2017 - Max Timmerman
(Beeldend Kunstenaar, schilder, tekenaar, graficus, maker van kleine objecten en schrijver van reisverhalen en gedichten.)
"Hoe enerverend, verwarrend, ontroerend, vertederend en ontmaagdend kan een reis zijn?
Nou precies: Lees het reisverhaal "Reis naar de liefde" van Ellen van Boggelen-Heutink. (...) Geen moment heb ik mij verveeld tijdens het lezen van dit indringende en zeer persoonlijk levensverhaal. En dan te bedenken dat het (nog) maar over een paar jaar gaat! In die verwondering, in die reflecties van haar "ontberingen en ontmoetingen" ligt de kern van dit prachtige boekje. (...) Kortom: een prachtig reis en levensverhaal met schitterende foto's en illustraties van de schrijfster."
Lees zijn hele uitgebreide en positieve recensie hier.

11-2-2017 - Martin van Thiel (Professioneel fotograaf, Utrecht)
"Reis naar de Liefde is een openhartig boek van een in eerste instantie naïeve jongedame, niet bewust van het effect van haar verschijning op de buitenwereld, een andere wereld en op mannen. Ook is het boek een feest der herkenning voor diegenen die zijn opgegroeid in de jaren '50 en '60, een besloten wereld die op revolutionaire wijze openging, mede door de zoektocht van jongeren zoals Ellen, op zoek naar het andere, op zoek naar geluk. Heel mooi vind ik dat ook wordt beschreven dat deze zoektocht verveling kent, langdradigheid, ergernissen, boosheid, dat niet alles rozengeur en maneschijn is en dat nare karaktertrekjes ook naar boven komen zodat vriendschappen onherstelbaar beschadigd kunnen worden. In een ruk heb ik het boek uitgelezen, zeer benieuwd hoe het Ellen zou vergaan. Mooi ook dat ze haar verdere leven zeer sterk door deze reis heeft laten beïnvloeden."


5 februari 2015 schrijft H.T.:
"Heb het boek uit en ik kan je zeggen 'het was unterhaltend'. Heb het met plezier gelezen. Luchtig en toch soms serieus."


3 februari 2017 schrijft lezeres W.D.:

"Naast een ander boek ben ik nu begonnen aan jouw boek. Ik ben in Kreta.... Jouw schrijfstijl zorgt er in elk geval voor dat ik steeds een beeld van de mensen, jou en de omgeving voor me zie! Dat is toch heel knap. Leuk om te lezen!!"